Today, our customer storytellers are GoFable – a small but extraordinary venture marketing agency from the San Francisco Bay Area. Alex Iakovlev, CEO and Co-Founder of Gofable, told us how a completely remote team, scattered around the world, works as if they are sitting in the same room.
Here's what they say about themselves: «We worked our entire adult lives in-house in small startups, studios, and large-scale companies and corporations. We were doing great work, and during our exciting experience with different types of tech projects, we gained a great deal of high-quality know-how in growth marketing.»
Team members have known each other for a long-long time working in different startups and finally realized that it is time to start their own businesses.
The guys set a challenging goal – to create not just another marketing agency, but «to change the content marketing industry in the U.S. market by providing the best, high-quality experience for our clients and their customers by boosting their content marketing efforts.» Seriously, you should take a look at their website!
Alex shared with us the main pain points of remote team management and his secrets of successful implementation of the Standuply bot into the remote workflow.
The company is headquartered in the San Francisco Bay Area, but the team is widely distributed. GoFable has team members from the East Coast, West Coast, and Europe.
Alex noted, "We have four core team members, but since we are engaged in project activity, every time we attract our vetted contractors from the network we've developed over the last 8 years. Now we have over 150 contractors."
He also added, "Half a year ago we decided to train young minds in what we can do. So we started an internship training program and took on ten young guys, part-time."
Such a huge amount of work must be controlled in order not to allow the process to stop.
"We ran the usual status checks on Zoom before, and it was enough when we just started. But now the team has grown to become international. There are too many people to have a call with everyone, we don't have that much time," Alex said.
"For many employees, expressing themselves by text is much more comfortable than by voice. With Standuply they have time to think and formulate thoughts competently."

Alex Iakovlev
CEO and Co-Founder of Gofable
For communication the GoFable team uses the following tools:
Slack (obviously) – for basic communication, chatting and reporting with Standuply's help.
Zoom – for video calls: the guys claim that it has the best sound quality.
Asana – for easy task scheduling.
Alex explains that the most painful point of their teamwork is caused by different timezones. You must agree, when such a bunch of people operates at different times, it is quite difficult to work in lockstep.
Alex states, "Even if we have daily video meetings, for example, at 10 a.m., it often happens that someone has not exactly had time to prepare by this time or get to the computer. Besides, our contractors are freelancers and work only for part-time, respectively, and are available only for a limited time."
The decision to introduce standups to the workflow did not come to Alex right away. "Once, I had a meeting with our partner and my friend, and I shared our problem in communication with him. He advised us to give up daily calls and try to build team communication on standups, as he does with his company team. I was wondering if it would work but I started to look for a convenient tool."
For now, GoFable has been using Standuply as a communications assistant for a year. But first Alex found Standuply at Product Hunt when we had just released one of our products. "We decided to try a trial period. To be honest, we were just amazed by the number of report templates!" he exclaimed.
"The interface is super user-friendly, intuitive and minimalistic. It has nothing superfluous that would distract attention."

Alex Iakovlev
CEO and Co-Founder of Gofable
He described in detail what the Standuply features GoFable team uses and how. This is how the main panel in their personal account looks like:
This report GoFable uses daily. It's convenient because of the opportunity to set each user's timezone. Alex explains, "For example, if we run a stand-up at 10 a.m., each employee will receive a stand-up at 10 a.m. on his/her timezone. We would forget about any delays due to time differences (or until Standuply existed)."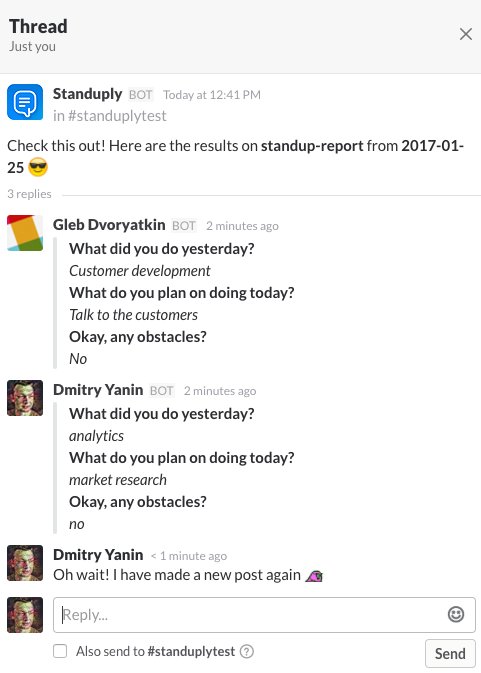 GoFable uses it once in quartal. Alex says, "We especially like this template. We did before on Zoom, but there are some human factors. For example, if the employee is a newbie or even an intern with no experience, he/she can be really nervous on the call and forget everything that had to be said."
He also notes, "For many employees, expressing themselves by text is much more comfortable than by voice. With Standuply there is time to think and formulate thoughts competently. For those who prefer to communicate by voice, Standuply has a feature of video and audio messages with no pressure on people."
Training interns is not an easy job, and Standuply helps GoFable with this too. Using the 'Feedback on tasks' template, they are able to automate the collection of feedback about their internship.
Alex explains, "Interns can think about what they like and what they want to improve with no pressure, and we can track their interests, weaknesses, the speed of the job, and so on. This report directly helps us hone our internship program for future interns."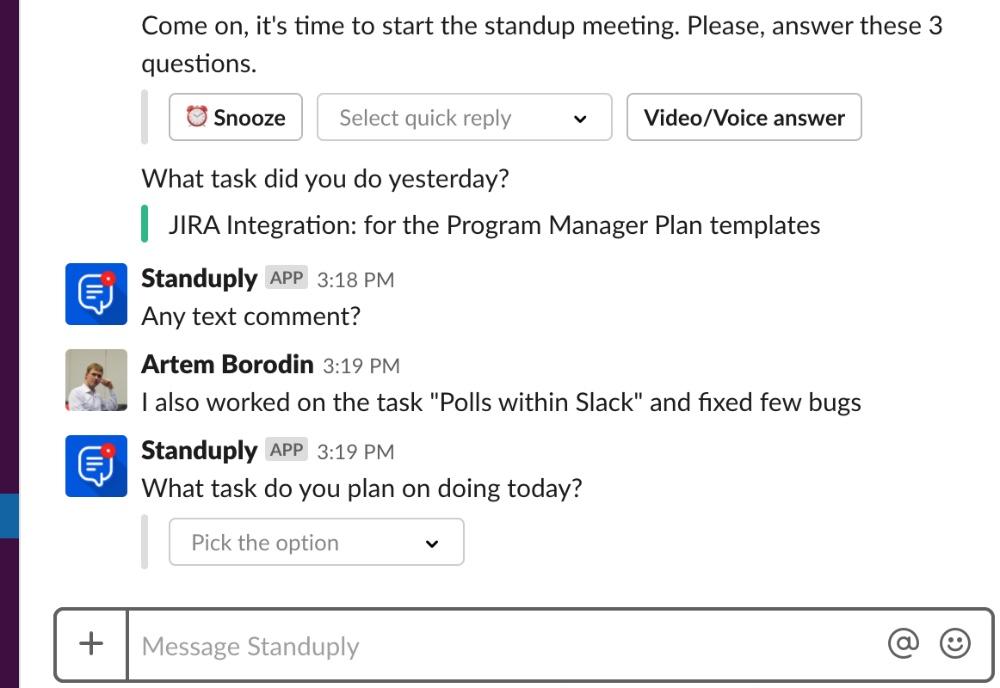 Standuply is able to diversify communication in the team considerably. This tool gives you a perfect 'framework' to build communication without unnecessary garbage. But you decide how to paint it. Alex shared a couple of secrets from GoFable. 🙂
"We try to come up with creative questions instead of a dry "any issues?"" He says, "We have turned boring reports into a fun game that employees will enjoy every day. It's important to make your team WANT to answer the question, rather than reacting like "Oh no, not these questions again."
"We rephrase the questions once every couple of months, so they don't get boring," Alex explains, "It can be the same question but supplemented with some joke or a funny GIF. By the way, Standuply has a feature allowing the attachment of a random GIF."
"This tool has become the best solution to all our pain points in communication as a totally remote team."

Alex Iakovlev
CEO and Co-Founder of Gofable
In conclusion, Alex adds, "By the way, if we weren't a remote team, Standuply would have freed more than one hour in the meeting room. So we advise offline teams also look closer at this tool. I'm sure that in the future, guys will come up with even more cool features, and we are looking forward to it!"
---
Summing up our conversation with Alex, we concluded that using Standuply GoFable saves a lot of time on unnecessary calls; their employees have become more honest and open because they don't need to come up with an answer on the go; feedback has become more specific without unnecessary information but is no less detailed.